Rubberized Asphalt vs Polymer
Rubber Asphalt vs Polymer
Rubber asphalt is not new but just starting to resurface throughout the US. It is produced from grinding up whole scrap tires from automobiles. Then the use of the ground tiers is mixed with the asphalt and then laid. Being the largest market for ground tiers, rubberized asphalt consumes an estimated 220,000,000 pounds or around 12 million tires annually. More and more states are starting to see the benefits of rubber and recently have been taking on the old technology and mastering the process.
In 2015, the Illinois Tollway Authority commissioned a demonstration project of dry process rubber asphalt pavements. This project designed to evaluate mix performance in the lab and field production of the mixes.  Elastiko Engineered Crumb Rubber was selected as the mix modifier in the project because of extensive field experience.  This joint project included both the Tollway and the Wisconsin DOT.
Working in conjunction with STATE Testing of East Dundee, IL, WIDOT and The Tollway commissioned two mix designs that had modification with ElastikoTM ECR.  They included a 12.5 mm N80 SMA mix design and a WIDOT WI-12.5 N75 SMA mix.  Both mix designs showed moderately high levels of ABR (40%), including both RAS and RAP.  The mix designs included the use of 10% rubber additions by weight of virgin binder (58 -28), which translated to about 6 lbs. of rubber per mix ton.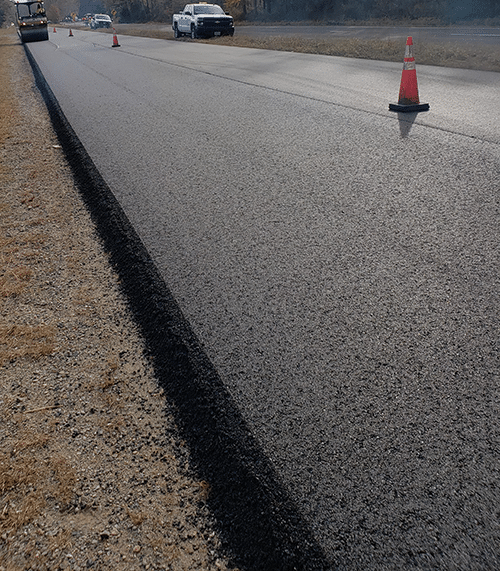 ECR and Polymer Comparison
Both mixes were produced in a lab setting in order to evaluate the mix performance.  The Tollway SMA got compared to a similar mix design using a 70 -28 PMA binder with no ECR, and the WIDOT mix design was compared to an unmodified 58 -28 hot mix asphalt of similar design.
In a comparison with a polymer modified mix design, the Elastiko Rubber Asphalt-modified mix exhibited similar rutting and cracking resistance. With the standard hot mix design, the ECR-modified mix out-performed the standard mix in both rutting and cracking resistance.
Since the ECR modification process was significantly less expensive than other traditional forms of modification (less expensive than terminal blend rubber, polymer modification) with comparable or better performance, the mixes got approved for plant production and laydown.
Curran Construction produced materials that they used to pave several miles of I-88 shoulder in 2015.  They reported that the modified rubber asphalt mixes similar to standard hot mix designs in production and laydown, and they had no issues in any portion of the project.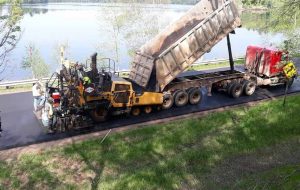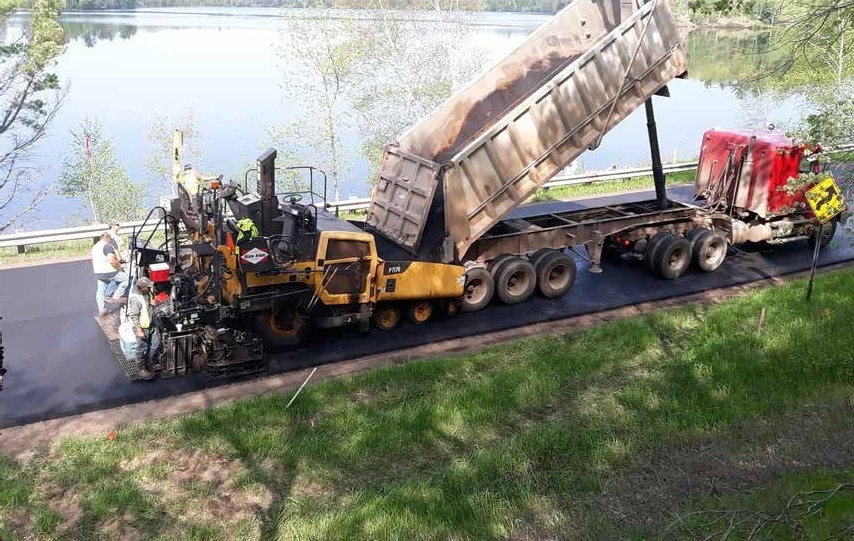 Asphalt Plus LLC is  a specialty chemical and equipment manufacturing company headquartered near Chicago, IL. We produce Elastiko engineered crumb rubber additive for rubberized asphalt application. Over the past two decades, extensive lab also field work has created a new binder modification option for asphalt producers. Dry process rubber modification of asphalt also allows you to produce rubber-modified mixes that perform like polymer-modified mixes without the use of terminal blending. Asphalt Plus engineered rubber has endured a wide range of harsh climate & road use conditions.
As a result of these situations, Asphalt Plus has performed impeccably well with nearly 6 million tons of placed Dry Mix Asphalt. We have assisted the auto manufacturing industry, the Department of Defense, Energy and Interior in cost-effectively reducing both their operating costs and their environmental footprint in a wide range of activities.