Oil and Gas Products
IntegriBlend 80/20 CS is a blend of liquid magnesium chloride and a Complex Sugar. It's an all-natural, environmentally friendly solution for gravel road stabilization and dust control. The blends are eco-friendly, but also budget smart. Studies show that entities using our CS blends as part of their gravel road maintenance can cut up to 60% of their gravel replacement and blading costs. The CS's hygroscopic properties naturally capture moisture from the air keeping the road damp and dust-free for a healthier environment and a safer road.
By enhancing liquid magnesium chloride with complex sugars, we have created a product that is ideal for dust control and stabilization on base courses with fewer plastic materials. The additional binding capabilities and deeper color of the CS blends offer a longer lasting road and an aesthetically pleasing surface. Applications include gravel roads, parking lots, storage areas, agricultural access roads, and horse arenas. IntegriBlend 80/20 CS and IntegriBlend 70/30 CS can be applied by Envirotx, or delivered to your site in 4500 gallon truckload quantities.
Typical application rates range between .3 – .5 gals/sy
70/30 CS is used to increase the binding ability
Mix the product into the base by a horizontal shaft blending machine or blade mix in a windrow
Typical rates for stabilization are .2 gal/sy/inch followed by a topical application of .25 gal/sy
Compact with a rubber tire roller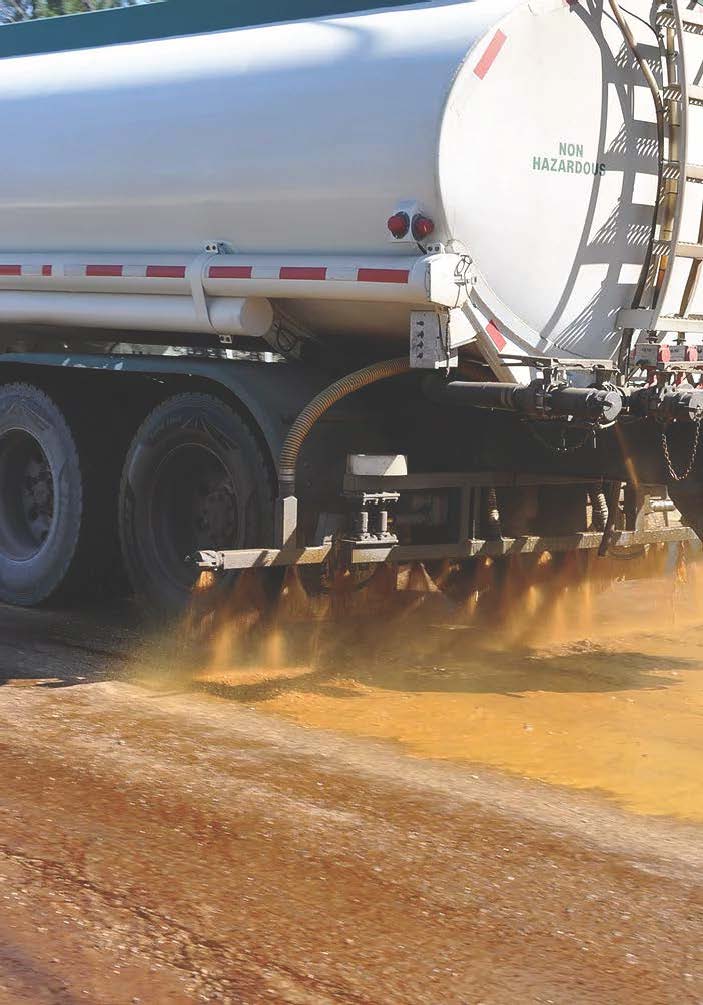 Down-Hole Clay Stabilization
IntegriFluids makes sure you're maximizing your productivity and preventing cost increases with Envirtox IntegriFluids clay stabilization fluids. Migrating fines and the swelling of clay is costly. Our product prevents Clay Swelling and Fines Migration by exchanging cations in clay and shale to reduce their susceptibility to absorb and react with water. Our highly effective clay stabilization is for use in fracturing and other well interventions. Compatible with all known kill, acidizing, and fracturing additives.
Available for: Totes, Truckloads, Rail Car Quantities
Specific Gravity : 1.30 ± 0.02
Boiling Point: 107.22°C
Density : 10.85 (lbs/gal) ± 0.25
Hazardous : N/A
Color : Colorless to Amber
Freezing Point : -18.33°C
pH : 7 – 9
IntegriFluids Max 5 and Max 10 Clay Stabilization
The IntegriFluids Max line of fluids are engineered fluids designed for superior downhole clay stabilization targeted at preventing both fines migration and hydration of reactive clays (swelling). The IntegriFluids Max line has all-natural, dual functional biopolymers that both encapsulate and interact with reservoir colloids, allowing for the optimization of completion fluids by combating two issues with one product. IntegriFluids Max 5 and IntegriFluids Max 10 are unique functionalized fluids that are specifically designed to control clay swelling and fines migration. The electronically optimized substituents engineered on our biopolymer backbone electronically interacts with clays, anchoring the molecule for the encapsulation process. The IntegriFluids Max line is proven to be a top performer at low treatment concentrations.
What is TOP-SEAL WHITE Liquid Polymer?
Top-Seal White is an all-purpose liquid soil stabilizer and additive that binds and transforms the base into a solid, yet flexible mass that resists fracturing. It prevents base failure, dust pollution and soil erosion, and it increases soil strength and reduces its permeability.
Field-testing with the Texas Department of Transportation has revealed that Top-Seal White's strength is comparable to that of cement stabilization. Other tests have shown that its resistance to moisture significantly exceeds Environmental Protection Agency standards.
Top-Seal White Liquid Soil Stabilizer Benefits:
* Over 20 years of successful performance
* Very environmentally safe and user friendly
* Opens up to traffic immediately
* Simply dilute in water truck and apply
* Over 500% greater dry-film strength than nearest competitor
* A fraction of the permeability of nearest competitor
* Surface penetration as good as, or better, than MC-30
* Cost is similar to MC-30, 30% to 50% of RC-250 covered prime cost