Ice Slicer Road Salt, 3 Uses in 1
What is Ice Slicer Road Salt

?
Ice Slicer is a specially formulated blend with an enhanced deicing agent, proven to ignite Ice Slicer's powerful melting capacities. It's a blend of 92% – 98% naturally occurring complex chlorides (sodium, magnesium, calcium, potassium) with anti-caking and anti-freezing agents that won't leach.
Replenish your stockpiles with a 3 in 1 higher performance salt
It is naturally formulated deicing salt that is a blend of chlorides and trace minerals
Ice Slicer meets TXDOT specifications and is on TXDOT contract
Ice Slicer Has Multiple Uses: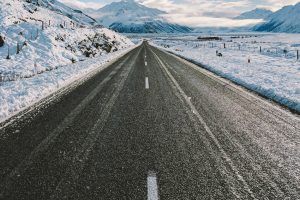 1)Anti-Icer:
It is aggressive enough to apply to wet roads before the freeze, where it dissolves and won't bounce and scatter like regular road salt.
2)Deicer:
It is an excellent deicer when applied to any type of ice or snow, boring through the frozen material, breaking the bond between the pavement and ice/snow.
3)Brine:
It brines beautifully, has approx 1% insolubles, working to lower temperatures than salt.
1.  Its is naturally ~ 30% less corrosive pound for pound than standard road salt
2. When applied in dry granular form, lighter spread rates can be utilized, improving response time and lessening accident rates
3.   Available in bulk and 2000 lb supersacs